AQA provides external academic quality assurance for all New Zealand universities via a five-yearly cycle of audits. Key principles underpinning AQA academic audits are: peer review, evidence-based, externally benchmarked, and enhancement-led. Learn more about our current cycle of academic audits here.
Report of the 2013 Academic Audit of Massey University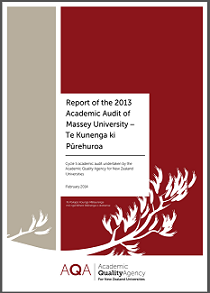 The Academic Quality Agency for New Zealand Universities has released the report of its most recent academic audit of Massey University. This audit was conducted in late-2013 and was the first of the Cycle 5 academic audits of New Zealand universities to be conducted by AQA. Cycle 5 audits cover all aspects of an institution which are related to teaching,
learning and student support.
The executive summary and full report of this audit can be found in the Reports and Papers section of this website, and further information about Cycle academic audits is
available here.


About our name
Previously the New Zealand Universities Academic Audit Unit, from 1 January 2013 we are now the Academic Quality Agency for New Zealand Universities (AQA), Te Pokapū Kounga Mātauranga mō ngā Whare Wānanga o Aotearoa. Find out more about our name, our history and our purpose here.