Staff
Dr. Jan Cameron
DPhil, MSocSc, BSc
- Director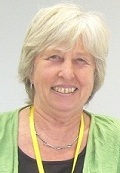 Jan Cameron took up the position of Director in March 2010.
Jan has a BSc in Zoology from the University of Canterbury, and an MSocSc and DPhil in Sociology from the University of Waikato. She was previously Assistant Vice-Chancellor (Academic) (1998-2010), Dean of Arts (1996-98) and Senior Lecturer in Sociology at the University of Canterbury. Her responsibilities included the Academic Quality Assurance Unit and the University Centre for Teaching and Learning. Jan has extensive experience of academic audit, programme approval and accreditation. She managed the quality assurance and audit self-review processes at Canterbury over two academic audit cycles and served for many years on the Committee for University Academic Programmes of the New Zealand Vice-Chancellors' Committee (NZVCC). She is a member of the Board of the Asia-Pacific Quality Network (APQN) and has participated in academic audits in Oman, Hong Kong and India. She has a particular interest in mutual recognition of quality assurance processes across different jurisdictions.
Heather Kirkwood
BCA, GradDipCom (Well)
- Quality Enhancement and Communications Manager
Heather has a BCA in economics and public policy, and a graduate diploma in accounting from Victoria University of Wellington.
Previously a policy analyst and project manager at The University of Auckland, Heather has extensive experience in the tertiary sector, including several years as the Secretary-General of Universitas 21 (an international network of universities). During her time at The University of Auckland, Heather project managed Student Life and Curriculum commissions, and authored a number of submissions and analyses on key issues in university education and research.
Heather's role is to support the Director by undertaking research, promoting quality enhancement and communicating good practice.